Find your perfect
domain extension!
*Promotional rate applies for the first year, after that the regular rate applies.
A domain name is a unique online address that you enter in the address bar of a Web browser. It requests the web page so you can view it. A domain name consists of two parts; namely a domain, for example 'Snel' and the domain extension, also known as the Top Level Domain (TLD), for example '.com'. Together, domain+domain extension make up our domain name Snel.com.
The name of your domain is at least as important as that of your business or service, often they are the same. If you want people to be able to find you online fast, choose a domain that is easy to remember and easy to write.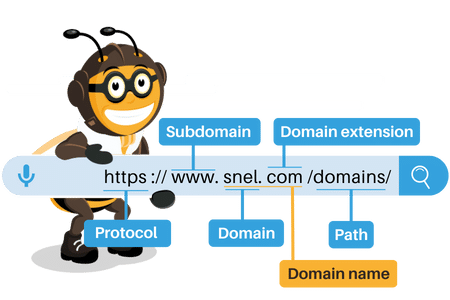 What is a domain extension (TLD)?
The purpose of your website helps determine which TLD extension is right for you. So when or why do you choose a domain name with either .com or .eu? Customers, as well as search engines, see and interpret domain extensions. Therefore, it is important that you choose a domain extension that fits well with what is on your website or what fits the intended audience of your website - this will help attract more visitors.
When available, businesses often choose the commercial and international .com domain extensions, while schools and institutions should logically go for .edu domain names. In addition, country or region-based domain extensions such as .nl, .be and .eu are perfect for reaching audiences in those specific regions.
Numerous domain name hosting possibilities
We provide extensive hosting solutions that are geared to your individual domain hosting demands. WordPress and WooCommerce hosting, for example, give you complete control over the content and appearance of your websites, offering you an edge in this highly competitive market.
With our Managed VPS and White label Reseller hosting solutions you can professionally scale up and experience excellent performance and reliability while we streamline the maintenance of your website(s).
Do you want to host your mailbox only? That's possible too. Choose Microsoft (Office) 365 or E-mail only hosting.
The advantages of registering a domain at Snel.com
ISO 27001 certified
---
With the ISO/IEC 27001 accreditation, we meet the strictest international (data) security requirements and we are audited annually by independent ISO auditors. This way you can rest assured that your data is monitored to a very high standard.
Realtime domain registration
---
Purchasing a domain name anytime you want, quickly and easily. We register domain names in real time, around-the-clock. The domain name for your ideal business or project is live instantly.
Free Moving Service
---
Have you already registered one or more domains and do you want to transfer them to Snel.com? Request our moving service and we will move them for you. We offer this service free of charge. Domains will be migrated for you for free on request.
Easy Domain Management
---
Managing your domain names has never been easier. Through the My.snel.com customer panel you can easily register multiple domain names, transfer them, carry out DNS management and add domain contacts.
DNS with DNS
SEC
support

---
Our DNS servers are DNSSEC-compatible. Making sure you have a secure connection to the appropriate servers is the main goal of DNSSEC. By comparing cryptographic signatures with DNS records, it defends against man-in-the-middle attacks, pharming, and other cyber-attacks.
WHOIS privacy

---
Whois privacy protects your identity. A "proxy information" will appear in the whois: the data of the Whois Privacy Protection Foundation. Whois privacy not only protects your online identity, but it also helps reduce the number of spam messages you receive.
Our satisfied webhosting customers
Albert Briu
Customer
We have been using SNEL services for years. Very good quality, no breakdowns and downtime. Great hosting services! Customer service responds to every question in several minutes! We have never had any reservations. We recommend! 🙂
Raphael Sprenger
Customer
I can feel that people at Snel really care. For proper tech. For documentation. For quick, reliable and friendly support. Working in IT for over a decade, Snel is one out of two providers I can recommended without hesitation.
Patrick Sanders
Customer
Doing business with SNEL.com has been professional and responsive, which are two keywords which are very important to us as a business. The costs and quality are equally important and certainly up to what we expect.
FAQ Regarding Domain names
That's possible, you automatically have this when you purchase Webhosting Complete. If you do not want a web hosting package because, for example, you do not have a website, but only need email instead, then you choose Microsoft 365 or Email hosting.
You can request our Free Moving Service by sending an email to [email protected] or by filling in the contact form.
You can easily find this out by using our domain search bar.
First make a backup of your current website before moving it to a new domain name. As part of this process, you store your website's files and database(s). The next step is to order a webhosting complete or web hosting reseller package for your new domain name, where you store the copy of your website and database.
In most cases, you can request the transfer code for your domain name from your current provider in your customer panel/account. If that is not possible, you can call them or send them an e-mail asking for the transfer code. At Snel.com you will find your transfer code in your Clientarea.
You can buy a domain name without purchasing web hosting. A domain acts as an online address with which you can refer people to a website.
Suppose you buy the domain purely to park it, for example because you think you want to use it in the future or to prevent a competitor from buying it, then you do not need web hosting. It is also possible that you already have web hosting with another party and you buy the domain from us because you are cheaper or because you want to use simple domain management. Even then you do not need an additional hosting plan.
First you can visit the domain name to see if there is an active website on it, if not there is a chance that the owner of the domain name is willing to sell it. Sometimes there is even sales information on the page the link comes from.
Another way to find out who owns the domain name is to enter the domain name+WHOIS in a search engine.
You always pay a domain name for at least 1 year, so the term is 1 year. Many domain extensions offer the option to register for a period longer than 1 year.
You can and this is free at Snel.com. You can set up the domain name forwarding function via the clientarea.
In the price table we have only listed a selection of the available domain extensions, but we have more than 2000 in our offer. Can't find the desired domain extension in the domain extension search bar? Then email us so that we can register or move it for you.
How can we help?
Our customers praise us for the excellent service they receive. Would you like a taste? Get in touch with us, and we'll help you find the best solution for your hosting needs.