Moving to Snel.com is easy
We're ready to assist you every step of the way. We'll take care of transferring all your websites, databases, mailboxes, and servers for you, complete with the appropriate settings. Your only responsibility is to provide us with the necessary moving details. But don't worry, we'll guide you through which details we need and where to find them.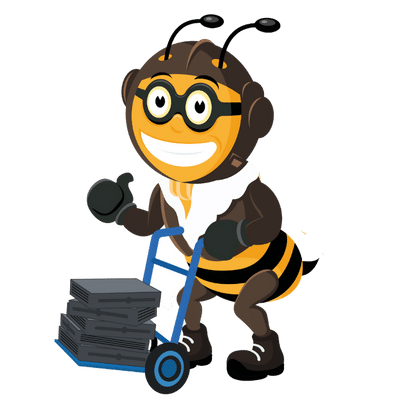 Submit a moving request with your order or through our contact form, and we will get in touch with you within one business day to schedule a migration date. For the move, we'll need your login details and, if you wish to transfer your email, the relevant email addresses and passwords
We prepare your website and email accounts in your new Snel.com environment. You'll receive the necessary new settings and guides for email adjustments from us. We'll modify the DNS to direct traffic to Snel.com and move your domain(s).
Our support team will set up your order with the chosen hosting and services. We'll configure your new email accounts, adjust relevant settings, and ensure seamless access to your website and email based on the information provided.
We carry out a final check to ensure everything is functioning properly, quickly, and securely. We also make sure no emails are left behind with your old provider. You'll receive a message from us confirming the completion of the transfer. You can then verify if everything is to your satisfaction and cancel the transferred services with your old provider.
Conditions of the Free Moving Service promotion
Do you have questions about our moving service?
Don't hesitate to ask, we are more than happy to answer them!
ISO/IEC 27001 Certified

We guarantee continuous improvement in security, availability, and quality.

Certified Green Host

We strive to continuously reduce our footprint with all of our processes.

Moving service

We will do the heavy lifting, and we are quick and thorough at it.
Swift answers

Guaranteed quick response times.
You can reach us 24/7/365.

100% Network uptime

We always like to give one hundred percent. So that's the uptime we offer.

Continuous improvement

We keep improving our processes to meet the highest standards.
Johan Quarre
Customer
Since the migration to snel.com the time needed for server management has decreased significantly. Onboarding to snel.com was smooth, fast, professional and personal. In the rare occasion that I need their helpdesk, I value their fast response. Highly guaranteed!
FAQ Regarding Moving Service
If it concerns the migration of a website, the costs are € 109.99 per website, including email. If it concerns a different product, please send us an email for a quote.
At the moment we offer free moving service with a wide range of our products. See conditions of the free moving service on this page.
You can request the moving service by emailing us or sending us a message through the contact form. We will contact you a.s.a.p. to discuss the details.
We can transfer a domain name, website or server up to 30 days after purchasing your service.
Of course, any mailboxes will also be moved along with your websites.
How can we help?
Our customers praise us for the excellent service they receive. Would you like a taste? Get in touch with us, and we'll help you find the best solution for your hosting needs.